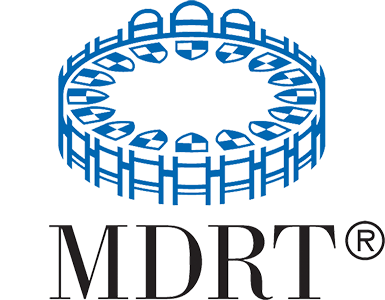 The Premier Association of Financial Advisors ®
Million Dollar Round Table (MDRT) Code of Ethics
MDRT members should be ever mindful that complete compliance with and observance of the MDRT Code of Ethics shall serve to promote the highest quality standards of membership. These standards will be beneficial to the public and to the insurance and financial services profession. Therefore, members shall:
Always place the best interests of their clients above their own direct or indirect interests.
Maintain the highest standards of professional competence and give the best possible advice to clients by seeking to maintain and improve professional knowledge, skills and competence.
Hold in strictest confidence, and consider as privileged, all business and personal information pertaining to their clients' affairs.
Make full and adequate disclosure of all facts necessary to enable clients to make informed decisions.
Maintain personal conduct that will reflect favorably on the insurance and financial services profession and MDRT.
Determine that any replacement of an insurance or financial product must be beneficial for the client.
Abide by and conform to all provisions of the laws and regulations in the jurisdictions in which they do business.